Home
>
the first club
> Red Letter Days Launches the first club™ digital rewards solution for members
Red Letter Days Launches the first club™ digital rewards solution for members
Source: press release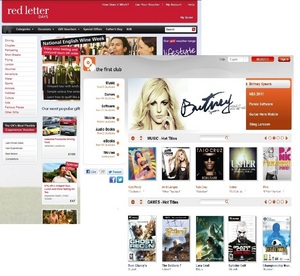 LONDON, June 3, 2011- - Beginning today, in partnership with the first club™,experiences specialist Red Letter Days will be offering its customers digital rewards.  the first club™ is a global provider of instant digital rewards, designed to engage consumers with millions of options of the latest in downloadable content including music, games, mobile apps, eBooks, and software offered instantly worldwide.
"We're very excited to be expanding Red Letter Days' offering to include digital rewards. They have embraced digital rewards as a new phase in customer engagement, and we're ready to help enhance their programme of voucher options with additional redemption possibilities."  said Denis Huré, CEO and co-founder of the first club™.
Relevant Rewards for today's Digitized Consumers
In a report called Loyalty Looking Forward released earlier this year, the first club™ found that 48% percent of customers spend more with a company that offers products relevant to them.  A "relevant reward" is a product available at a time and place of the customer's choosing, one that the customer intends to buy anyway—a current "want." In other words: Time, Place, and Demand.  By providing millions of titles of branded digital content such as eBooks, games, music and software, the first club™ satisfies all relevant reward logistics.
Digital rewards offer Red Letter Days a flexible reward alternative to integrate into its existing offering.  Because there is no "physical" requirement, the first club's digital rewards can be instantly implemented into existing programme elements; adjusted to reach new targets; and measured using any existing CRM process.
According to Andy Ling, Head of Product Development at Red Letter Days, "That's one of the most important factors about the first club's digital rewards. Their program is easy to implement into our existing programme, giving us a flexible cost-effective solution. Add to that, the concepts of relevancy, straight-forwardness, and attainability, and digital rewards promise to keep customers coming back to Red Letter Days."
the first club™ currently provides the latest in digital content to brands all over the world, and its licensing agreements with music companies, publishers and game developers means that Red Letter Days members will have access to the most current and largest library of digital content that is available in the reward programme market.
To learn more about the digital rewards programme being implemented by Red Letter Days, or to speak with Denis Huré, CEO and co-founder of the first club™, please email denis@thefirstclub.com or for press inquiries, please contact Vanessa Horwell at Vanessa@thinkinkpr.com.
###
AboutRed Letter Days Ltd.
Founded in 1998, Red Letter Days is the UK's leading experience company with two decades of providing successful reward and recognition solutions to companies across the UK. The company is owned by two of the country's foremost entrepreneurs Peter Jones and Theo Paphitis.
http://www.redletterdaysb2b.co.uk
About the first club™
the first club™is the first global solutions provider to present a new, better, and more effective way to offer rewards and build loyalty by delivering relevant, digital content that is instantly gratifying to today's consumers.  the first club™ digital solutions can enhance loyalty, promotions, incentives and any type of rewards programs by offering the latest in premium content that will engage consumers worldwide, with attainable low-level rewards. Consumers can redeem rewards instantly to access the very latest in digital content in 12 languages, including millions of music tracks, mobile phone apps, games, eBooks, audio books, and soon casual games, digital magazines, movies and TV shows to engage with their favourite brands. the first club™ solutions are easily integrated into existing loyalty and reward programs, are cost-efficient and scalable to encourage low level reward redemption, increase customer loyalty and create additional revenues for brands.
For more information about the first club™  please visit www.thefirstclub.net, or experience the first club™ white label consumer site at www.thefirstclub.com.
 - END –